Homeowners and commercial property owners do well to schedule roof repair in Boston the moment they know such fixes are needed, as neglecting repairs or needed reroofing only allows damage to get more extensive. The more extensive the damage, the costlier those fixes!
To help you make the right decision about your structure's roof and needed repairs, note some common questions many property owners have about Boston roofing contractors and reroofing in general. You can then discuss your Boston roof repair needs with your contractor and know that you're making the best decision for your home or commercial structure.
1. What If You Can't Afford Boston Roof Repair Costs?
If you think you might not be able to work Boston roof repair costs into your household budget, ask your roofing contractor for assistance! He or she might suggest you consider repairing or installing certain sections of your roof every year; for example, you might address a one-fourth section of your home's roof one year, then another one-fourth section the next year, and so on. You can then spread out costs over those four years.
Boston roofing contractors also often know if materials go on sale at certain times of the year or if scheduling repairs during the off-season means costs savings. Whatever you do, however, don't simply avoid needed Boston roof repairs as the longer you ignore those fixes, the more damage your home or business suffers and the costlier those repairs over time!
2. Why Schedule a Boston Roof Inspection for a New Roof?
While you might assume that a new roof won't need an inspection or repairs for several years, note that storms, tree branches, excessive soot and air pollution residues, and poor-quality materials and installation all risk damage to a roof no matter its age. An annual or semi-annual roof inspection in Boston alerts you to any signs of excessive wear or needed fixes.
3. Can You Buy a Home That Needs Roof Repairs?
First understand that a home for sale goes through an inspection to note if certain structural materials are up to local building codes and other such issues. A home inspector does not tell you if a house is worth its asking price, your potential roof repair costs, who to call for expected repairs, and so on.
Even if a home does need roof repairs or replacement, this doesn't necessarily mean that it's a poor purchase option. You might find that the seller is willing to lower their asking price to compensate for your Boston roof repair costs, as an example, or the home might have many other desirable qualities so that it's an excellent choice overall. Discuss your options with a real estate agent or attorney to help you decide if a home with damaged roof is the right choice for you.
4. How Do You Know Your Home Needs Boston Roof Repair?
An annual inspection is the best choice for finding out if you need roof repair in Boston. You might also check for signs of roof damage such as curled and buckled shingles, missing granules along shingle surfaces, interior water leaks, and large discolored patches.
A cold and drafty or overly humid interior might also indicate roof leaks and holes or missing shingles. If you stand across the street and examine your home, you might also note sagging areas, dented shingles, and other such signs of damage. In those cases, scheduling a roof inspection for a Boston home and ask a contractor about potential needed repairs.
5. Does Homeowner's Insurance Pay For Roof Repair in Boston?
Homeowner's insurance might pay your expected Boston roof repair costs if damage is caused by what's called a covered peril. In some cases, covered perils might include wind and hailstorms, lightning strikes, house fires, and the like.
However, a homeowner's insurance policy typically does not pay for roof repairs or a new roof installation in Boston if those repairs are needed due to lack of maintenance or everyday wear and tear. In some cases your insurance company might not pay for roof repairs if you've attempted repair work yourself and have used poor-quality materials or otherwise put the roof at risk of greater damage! Ask your insurance agent if you're not sure what's covered under your policy.
6. When Should You Pay for a New Roof in Boston Rather Than Repairs?
To determine if you should invest in a new Boston roof installation rather than needed repairs, note the current roof's age. If it's nearing the end of its expected lifespan, a new roof might be the best choice rather than paying for repairs now and then also for a new roof in just a few years! Investing in high-quality materials such as metal or clay tiles can also mean not having to worry about roof repairs or new roofing for several decades.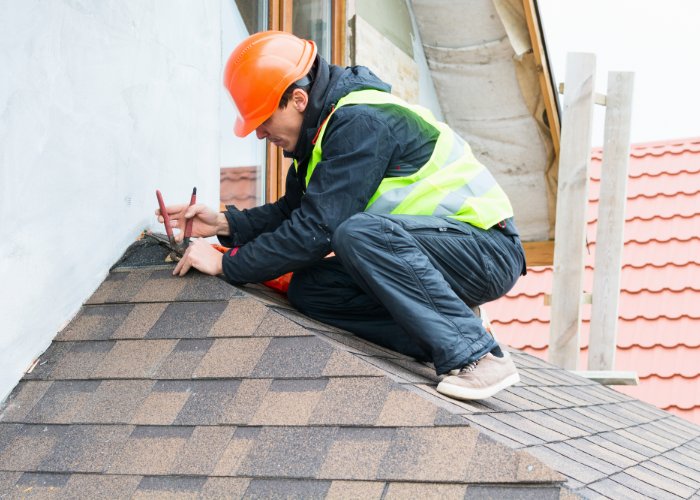 A new roof might also improve your home's appearance more than simple repairs and especially if you add new siding installation for a Boston area home, new gutters, and other such features. New siding adds color and a fresh look while gutters provide contrast between exterior walls and a home's roof. If you're looking for a way to keep your home in good repair while also improving its overall appearance, consider a new Boston roof installation!
7. Can You Put a New Roof Over an Existing Roof?
Whether or not you can install a new roof over an existing roof depends on many factors, including local building codes! Every municipality will have its own codes and regulations regarding roofing including how many times you can add a new roof without a full tear-off, if ever.
Your home's overall condition might also affect whether or not it can support added roofing layers. A weak structure or frame might not be strong enough to support added asphalt shingles, whereas an older home might easily support a lightweight metal roof. Your contractor can note if you'll need a full tear-off as part of your roof repairs in Boston.