A residential roof replacement in Boston is an excellent choice for any home, offering added insulation and enhanced curb appeal in an instant! A new roof also provided protection against water damage and resultant mold growth, while also potentially lowering your utility bills and protecting your home's property values.
One downside of a residential roof replacement in Boston, however, is the price! Despite the cost to replace a roof in Boston, it's vital that a homeowner invest in a new residential roof when needed. To alleviate your concern over the cost of a new roof, consider what's typically included in a roof replacement in Boston, so you better understand what you're getting for the price you pay!
Tear-off Roof Replacement for a Boston Home
A residential roof installation in Boston doesn't always include a tear-off of the home's current shingles. In some cases, new shingles, metal roofing, or other materials are placed over current shingles, to avoid the mess and cost of a tear-off.
However, the weight of new shingles can be too much for some homes to support, and local building codes usually only allow so many layers of roofing materials. Also, a full roof replacement in Boston should include tearing off all the materials, right down to the roof's decking! This work ensures that your new roof is solid and secure and in good repair.
Roof Decking
Roof decking refers to the framework of a roof, above the rafters and joists. This decking provides a solid, even surface for the layers of materials that create the roof itself. Once shingles and other materials are removed from a home's roof, a roof inspector will note if the decking needs repairs or replacement. This step is vital for a roof replacement in Boston, as roof decking in disrepair increases the risk of water damage inside the home as well as trapped humidity and resultant mold growth.
Underlayment Roof Replacement in Boston
A roof's underlayment is a waterproof layer over the decking and underneath shingles or other materials. Roofing underlayment is a vital part of the roof's overall durability and insulating properties, while also providing soundproofing for the home's interior.
Roof felt is a common underlayment material, as are various forms of rubber. Asphalt is often used in roofing underlayment, as it provides durability and waterproofing for a  home. New underlayment can mean a quieter and more comfortable interior environment and less risk of insect infestation in the home, water damage, trapped humidity, or mold growth.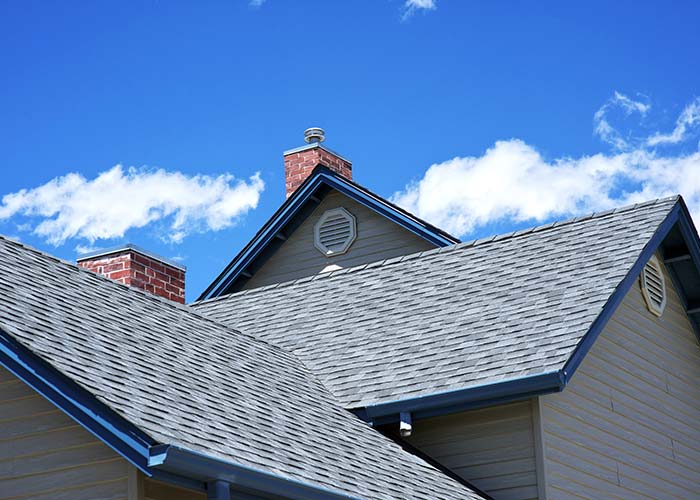 Roof Replacement in Boston With New Flashing
Flashing refers to metal pieces placed between shingles or tiles and a home's chimney, roof eaves, and other such corners. Flashing provides a watertight seal in those nooks and crannies, helping to protect the roof and home itself from water damage. Flashing also encourages rainwater to run down a home's roof to its gutters and downspouts rather than pooling in those cracks and crevices.
Torn, missing, or otherwise damaged flashing should be replaced as quickly as possible, to protect your home and roofing materials. New flashing is often installed as part of a roof replacement in Boston, to ensure it's in good condition and is also strong and secure.
Ice Dam Protection and Other Parts of a Roof Replacement in Boston
Boston area homes benefit from ice dam protection, to keep ice from forming on a home's roof or accumulating in the gutters. Drip edging around the eaves and edges of a roof encourage water runoff and help prevent ice, as does an added layer of waterproof materials under the shingle and over the roof's underlayment.
A roofing inspection in Boston often reveals if your home is prone to ice dams and similar damage. Adding these layers of protection during your roof replacement in Boston cuts down on this risk and protects your home's roof from early wear and tear and otherwise unnecessary repair and replacement.
New Roofing Shingles for a Boston Home
When you choose a roof replacement in Boston, you have the opportunity to choose high-quality shingles, a metal roof, or other such materials. While you need to consider your roof installation budget as well as the overall appearance of your home, you might note some added factors that can help you determine the best choice of roofing materials for your house.
Remember that low-quality roofing shingles are likely to split, tear, dry up, become brittle and crumble away, or otherwise need replacing sooner rather than later. You might be tempted to choose the cheapest shingles available for your home's roof replacement in Boston, but installing low-cost shingles now might mean higher repair and replacement costs over the lifetime of home ownership.
Higher quality shingles typically offer more insulation against outside noise and weather than thin, low-quality shingles. Added insulation is a vital factor to consider during the state's long and cold winters and unpredictable summer months! Added sound insulation also means not being bothered by noise from storms or squirrels running across your home's roof.
Consider your home ownership expectancy when choosing materials for a roof replacement in Boston. If you plan on putting your home on the market in a few years, a less expensive shingle variety might be acceptable, but for those who want to stay in their home for years if not indefinitely, invest in quality materials now so you can forego roof replacement in the future!
A roof installation contractor in Boston should offer a warranty for all roofing materials as well as their labor. Without a warranty, you have no idea how long those shingles will last and may find that you'll need roof repair of a Boston home within just a few short years.
Keep all these points in mind if you've been told that you need a roof replacement in Boston. This work includes more than just new shingles, which is why it's often a worthwhile investment no matter the cost. A new roof will also protect your home and increase its curb appeal while providing added insulation for many years to come.