Owning a home has its perks, but it also comes with expensive responsibilities! One such responsibility is replacing the roof every few years. A roof is arguably the most important part of your house because it keeps out the elements and helps to support the home's overall framework. Without a quality roof overhead, you can't live in your house! So, what does a roof replacement cost? 
The cost to replace a roof in the United States ranges from $3,000 to $12,000 depending on the size of the roof and the roofing materials chosen. In most areas, homeowners spend around $7,128 for a new roof. 
Your roofing contractor will consider the following when he or she calculates the cost of a new roof:
Type of roof (flat, high pitched or sloped)
Size of roof
How many layers of shingles are already on the roof
New roofing materials
Repairs needed
Unique roof features such as a chimney or a skylight
Now that you know your approximate roof replacement cost, consider some other vital information you might you need before your residential roof replacement.
How Do I Know If I Need A New Roof?
Roofs don't last forever! If your roof is more than ten years old, don't put off a roof replacement. In addition to its age, note some signs of needed roof installation:
Shingles with curled edges, cracks or bald spots
Leaks inside your house, often caused by water damage and wood rot
Shingles that pop off easily
You can see the shingles deteriorating
Roofing nails in the grass or the gutters 
If you see any of these signs of age in your roof, It's best to call a reliable roofing contractor right away. 
What Causes Roof Damage? 
Storm and high winds cause roof damage and destruction.
Falling tree limbs or branches make small punctures in shingles allowing water to get into the home.  After a hailstorm or other strong storm, have your roof checked for damage.
Age destroys a roof.
Harsh sunlight dries out shingles.
Improper pressure washing techniques loosen shingles and can cause cracks and leaks.
Birds, squirrels, and other pests loosen roofing shingles.
Algae grows under and along shingles, loosening them and causing them to crack.
How Do I Choose A Good Residential Roofing Company?
Note some important considerations when hiring a roofing company near you:
Do the roofing contractors have up-to-date licenses?
Does the roofing company offer factory certified materials? 
Does the roofing company carry liability or fall protection insurance?
Does the roofing company pull the permits for roof repairs?
Do they provide an extensive warranty on their materials and their work?
Does the company have local reviews or references? 
Never hire a roofing company based on price alone, as a seemingly good deal may not turn out to be such a good investment after all! A roofing contractor with strong qualifications, great reviews, and moderate prices is more apt to provide you with quality work that lasts. 
How Do I Pick The Right Shingles? 
To choose the right shingles for your home, consider the style of your house, the climate in your area, and the pitch of your roof. Consider the various roof shingles you might select:
Slate. These shingles are expensive and difficult to install but can last 75 years. 
Asphalt. The most popular type of shingles, these are affordable and easy to install. 
Wood. Wood shingles are resistant to rotting and insects. They are expensive and need special skills to install and are used mostly in historic areas. 
Rubber. Rubber roofing is used for flat or low sloped roofs.
Metal. Metal roofing is expensive but often outlasts other materials by several decades.
Ask a roofing contractor about different shingle options and to recommend the best shingles for your home's roof type and style. Roofing materials can have a big impact on the value of your house, so choose wisely and invest in quality!
How Do I Get The Best Deal On A New Roof? 
Getting good deals on your roof replacement cost in the Boston area is possible but it may require some research or extra work on your part. Note some suggestions for how to contain your roof replacement costs or roof repair costs: 
Ask your contractor to notify you when roofing materials go on sale.
Look for a wholesale building materials dealer in your area. Ask them to keep you updated on wholesale prices and sales.
Contact a roofing contractor during slower seasons such as early winter. 
Always get several bids from different roofing contractors. Let the contractors know you're checking around, as it might motivate them to give you a lower bid.
If your roof is damaged due to hail or storms, your homeowner's insurance might reimburse you for repair costs. When your contractor inspects your roof, he or she can typically tell you if you can file a claim for damages. 
What Time Of Year Is Best To Replace My Roof?
Roofing contractors are busy in the fall when the weather is cooler and less stormy. Summer is busy, but the weather is unpredictable so that roofing installation jobs might take longer than expected. Also, summer and fall are the hardest time of year to get a good deal; roof installation costs typically go up around April and drop in the early winter. For the best deal on a new roof, consider scheduling roof repairs in the winter or early spring months. 
Do I Need To Stay Home During A Roof Replacement? 
Replacing a residential roof takes several days, depending upon the weather. A roofing crew means a decent amount of noise; if this would bother you, spend the day away while the roofers are working although it's good to occasionally check on their progress.
If you do stay home, note that roofers create lots of debris so it's best for kids and pets to avoid the backyard. Remind children to be careful when walking up to your house as well! Move cars away from your house so they're out of the way of flying debris.
It's also good to remove  backyard furniture, grills, and other decor. If you're worried about your flowerbeds, ask the roofing contractor to avoid putting ladders in that area. Cover your vegetable garden or shrubbery with a tarp during the day to keep them safe.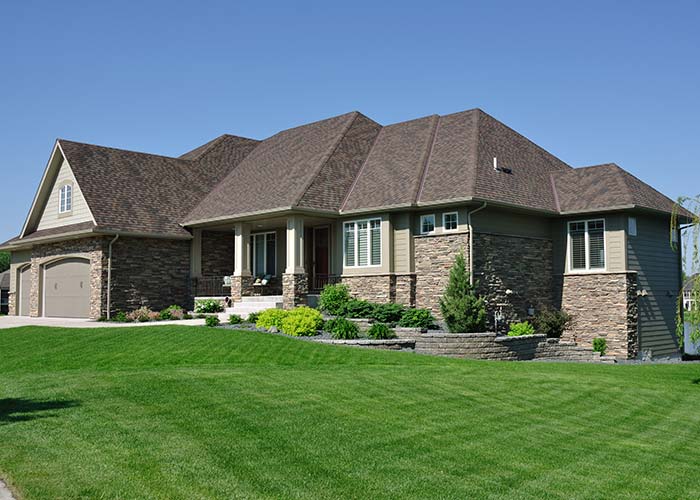 Is Replacing My Roof A Good Investment?
Many homeowners wonder if getting a new roof is worth their cost. Roof replacement costs are often steep, and it's easy to talk yourself out of such an expense. However, there are some excellent reasons to invest in a new roof no matter the overall price tag:
Safety issues. An old, leaking roof leads to water damage, wood rot and structural damage. Old roofs can also collapse under the weight of heavy, wet snow or in high winds. Water leakage can also cause mold or mildew in the home.
Energy efficiency. A good roof ensures your house will be warmer in the winter and cooler in the summer. Your energy costs savings then add up over time and your home will be more comfortable year round.
A new roof looks good! Homes with new roofs have added curb appeal. Not only will you enjoy how nice your house looks but new shingle roof replacement increases your home's resale value. The home sales market is competitive so replacing your roof is a simple way to draw buyers to your home should you ever decide to put it on the market.
Good investment. If your roof replacement costs are $10,000, there is a good chance you'll get an ROI (return on your investment) of 70%, recapturing your investment plus as much as 50% on the sale of your home if you should sell it within three years of your roof installation. It's no secret that roof replacement costs are high, but a new roof is a worthwhile expenditure and essential for the resale value of your home. 
Related Questions
What do I do if I can't afford roof replacement costs?
Home maintenance costs can add up. If you need a new roof but don't think you can afford it, consider some options: 
Get a home improvement loan or a home equity loan. You will need to qualify for this loan; typically, your household income must be below the national average. Once you get the loan, you must use at least 33% of it for the roof or other home repairs. 
Apply for a home improvement grant. These grants are provided by a state or federal government. A list of these programs and other resources to help you with your home repairs or other improvements are listed online state to state and city to city. 
Refinance your home. If your roofing costs are $10,000, your best option may be a cash-out refinance. In general, you take out $10K in refinance loans, which creates a new mortgage depending upon the interest rate and years you have to pay back the loan. 
Roofing contractor financing. Roofing contractors will often have a relationship with a local lender and offer their clients quality financing at low interest rates. 
What's the difference between residential roofing versus commercial roofing? 
Residential roofing and commercial roofing differ in style and roofing materials and roof replacement costs. A commercial roof typically has a flat slope while residential roofs are steep. Installing a residential roof in Boston is a simple process, but commercial roofing installation requires knowledge about external pipes, air flow systems, and other structural aspects of a commercial roof.